RECENTLY, THERE HAS SEEN A HUGE TURNAROUND IN BUYER SENTIMENT IN BRISBANE. IT SEEMS THAT EVEN MORE BUYERS HAVE ENTERED THE MARKET IN THE LAST MONTH, AND THIS IS CONTRIBUTING TO THE VERY HIGH DEMAND THAT IS EVIDENT AROUND THE CITY.
Last month, we reported that Westpac Bank updated its property forecasts, with Brisbane prices tipped to surge 20 per cent between 2022 and 2023. Since then, consumer confidence has surged, returning to an eight-month high. It is well known that consumer confidence is a key driver for housing markets across Australia. With the announcement of further rates cuts, we may now see a further surge in housing market activity.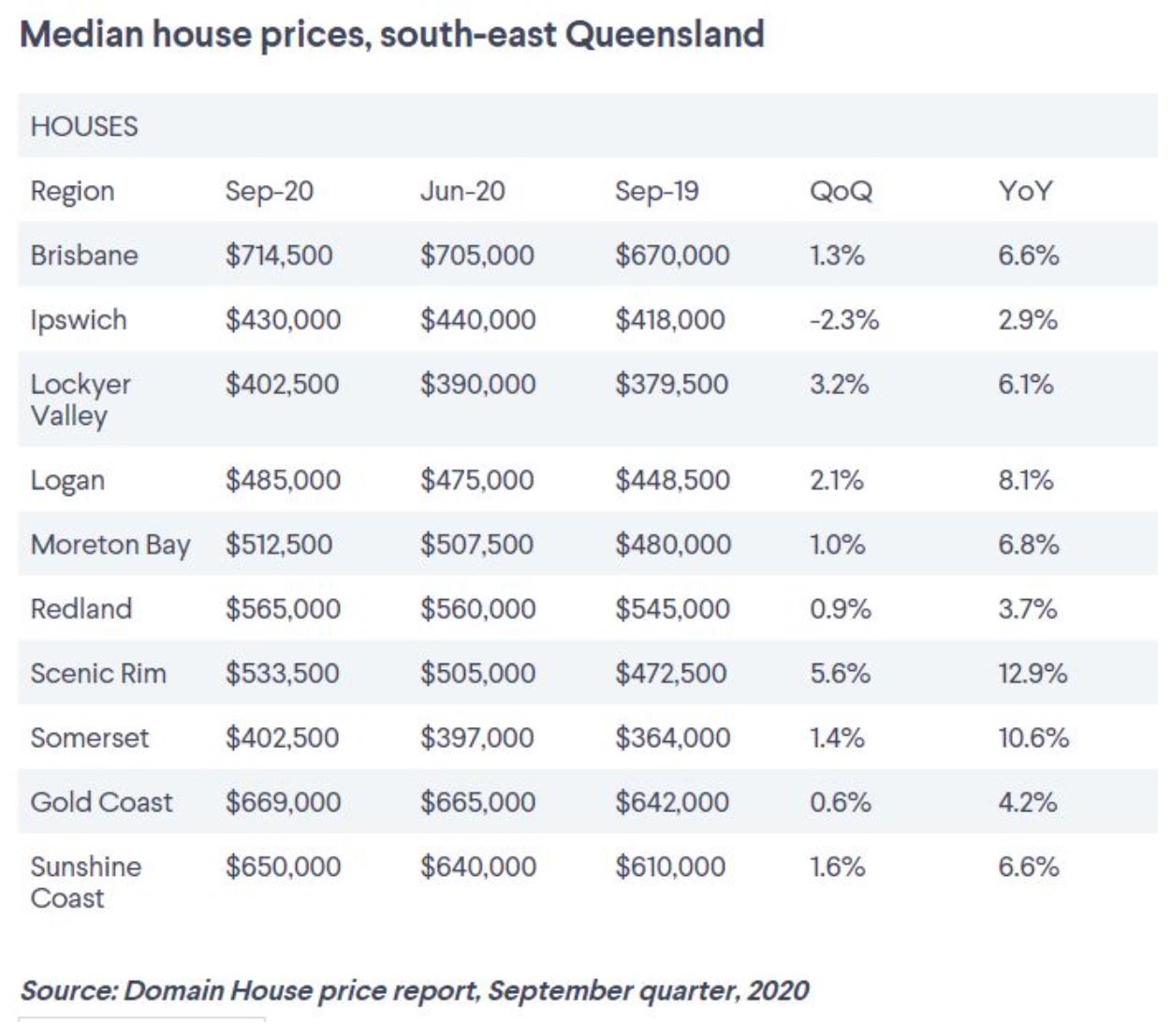 The Domain Buyer Demand Indicator has shown that houses remain a firm favourite for prospective home hunters, with demand rising post-lockdown in Brisbane, and it remains significantly elevated compared with last year. Unit demand has been sliding since late May although it also remains slightly higher than last year, with investment grade stock likely to be impacted most.  
At the moment, the Brisbane real estate market is moving at different speeds. We have the housing market, and the high-end unit market (as a small segment of the unit market as a whole) that are incredibly strong, but the inner-city one- and two-bedroom standard apartment markets are suffering. It is unlikely that we will see a recovery until borders open and international students return. 
In the Brisbane Housing Market, we saw median values for the greater Brisbane region increase 0.6 per cent across the month of September 2020. The current median value for a Brisbane house is now $564,531.  Combined with last month's house price results for Brisbane, this is a 1 per cent increase across the last two months. On a $500,000 property, this means it will cost a buyer $5,000 more to buy, and on a $1,000,000 property it is now $10,000 more to buy in the same area than it was two months ago.
Brisbane rental market movements
The vacancy rate in Brisbane as a whole fell again from 2.1 per cent at the end of August to 2.0 per cent at the end of September. There are still many areas in Greater Brisbane where vacancy rates are extremely low. The table below highlights where vacancy rates across Brisbane sit at the end of September 2020.
What are we seeing on the ground across Brisbane?
The number of people out at open homes every Saturday has continued to grow throughout October. With listing volumes still lower than 12 months ago, there is fierce competition for quality properties throughout Brisbane.
Demand is very strong. I would argue the strongest that we have seen in more than a decade. There are many reasons for this.
The most recent Herron Todd White Residential Month in Review, it states:
"Money has never been cheaper, and for those with the ability to access it, the opportunity is obvious." 
An example of a recent auction in Brisbane was the property at 20 Sturt Street Kedron. This was vacant land in Kedron, which is 11km to the north of the Brisbane CBD. There were 39 registered bidders and the vacant 607 sq m block sold for $1,155,000.
From our own "on the ground" experience, we can say that there is not a single property that we have been able to buy that has been listed on the market, that has not been a multiple offer situation after the first open home. Every property we have considered for our client has had high competition.
We are now also seeing properties sell outside of our appraisal range based on previous comparable sales in the area. This shows how strong the current market is, with properties selling between 5 and 10 per cent over the highest end of our appraisal range. This is critical for buyers to understand, otherwise they will simply keep missing out.
There is still off-market activity, and this is generally less competitive. Obviously, this is one advantage of working with professional buyer's agents who have an extensive agent network.
There is less fear in Brisbane now about property prices falling, so purchasers are eager to act. Interstate migration is also boosting sales, with property buyers looking to secure a home before relocating to Brisbane. There is a sense of anticipation building in Brisbane that we will see high volumes of interstate arrivals once the borders reopen for everyone. Given the changes that COVID-19 has had on all of us, many people are seeking a great lifestyle, which Brisbane provides, while having the ability to work more remotely. 
The dominant buyer group is still the owner-occupier in Brisbane, although we have definitely seen investor activity start to rapidly pick up again. Lending has spiked and owner-occupier lending is now at historical highs, excluding refinancing. First home buyer numbers are up 70 per cent year-on-year in Queensland, according to the most recent ABS lending data. Investor lending also rose 5 per cent in September, but it remains low overall. 
What does the future of Brisbane looking like?
The future for the Brisbane housing market looks very bright. We expect the current price growth to continue given the sheer number of buyers currently in the market ready to buy. With tight vacancy rates throughout most areas in Greater Brisbane, we also see great investment opportunities for those who have been sitting on the sidelines waiting for the worst of the pandemic to pass.
The high-density unit market is still subject to further headwinds – especially in the inner city. With elevated vacancy rates, investors without a tenant in place will certainly feel the impact on their returns. Also with downward pressure on prices, the immediate future looks bleak.
Queensland now has a re-elected Labor government, so there is more certainty than this time last month when we were still in the lead-up to our state election. With the promise of jobs, and more jobs, let's hope they get it right! With an improving economy, together with the creation of more jobs in the months ahead, this will have further positive effects on the Brisbane market.
Article written by Melinda Jennison – Smart Property Investments